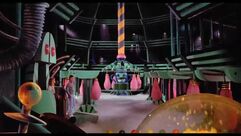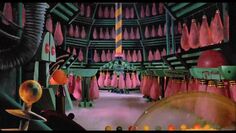 The
Giant Refrigerator Room
 is where Mike and Debbie had come into, where purple lightning was occuring from a round electricity core. Mike states it smells like candy. There's popcorn tubes, cotton candy cocoons and giant balloons hanging just like butchered meat on hangers, popcorn tubes where popping happens just like in electronic popcorn breeding machines.
Ad blocker interference detected!
Wikia is a free-to-use site that makes money from advertising. We have a modified experience for viewers using ad blockers

Wikia is not accessible if you've made further modifications. Remove the custom ad blocker rule(s) and the page will load as expected.